2008 Ram 1500 4x4 5.7 for now....
Well hi folks. I'm Tristyn.
Im currently in my first engine build... or paying for one at least... "building remotely" as I like to call it....
Im up in Fort McMurray, and my friend of 20 years, Dan, is down in Edmonton is doing the actual building. Hes been a mechanic for as long as I've known him, but his specialty has been repair, not performance builds, so there are some things even he cant answer for me.
While up til now, I've never been an engine guy, I learn by doing, and jumping in deep.... as you will soon see...
So to start off, I have a 2008 ram 5.7 4x4, minor valvetrain noise at idle, quickly turned into what will be about ~12K$ project mostly due to boredom.
Im keeping the truck forever, its in GREAT condition. i could fix it for under $2000, have a bit of fun on the top end for $4000, but the bottom end would still be 13 years old.....
So screw it! start fresh, just swap it when ready, minimal downtime.
The idea is a daily driver / super street pickup. no plans on going to the track more than once, just for the laugh of it.
So picked up a donor engine from an identical vehicle, 2008 ram, 5.7, tore it open and it was a beaute! $1800
Took the block to a machinist and had it bored, agligned, line bored, decked, & dipped, frost plugs removed and tapped the holes, ect. stuff... $2000
Manley stroker kit , pistons .010 over, only size piston in stock. $3000
Stock 08 ram heads, hand ported polished by a one-armed machinist.
this guy palmed the head with his one hand
and handed it to my buddy Dan. LOL $2000
heres the flow rates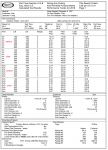 doing some research about a new intake threw up some issues.... damn AC compressor is in the way... not loosing it.
so found a plan.
car timing cover, car accessory drive. electric rad fan.
So i purchased the Flex-a-lite 183 kit and installed the e-fan.
works great.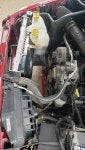 got about this far when i came across a website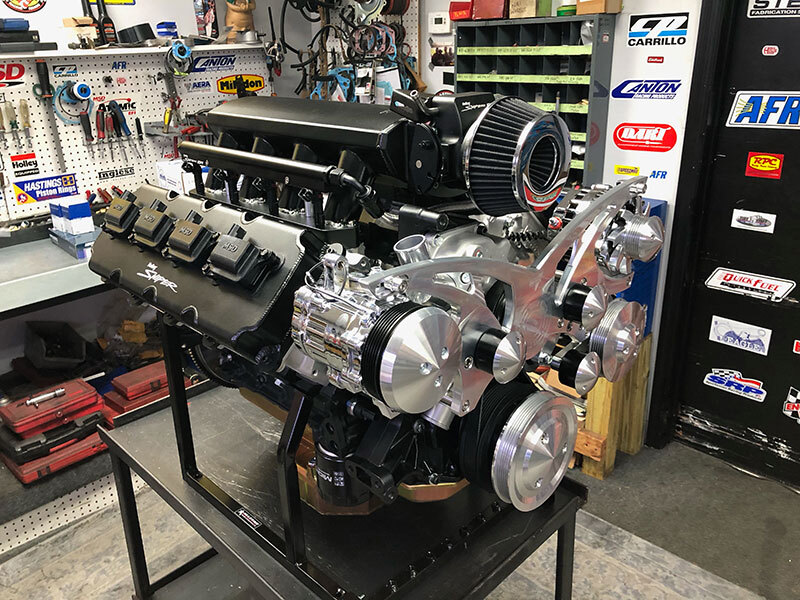 Gen III Hemi, Hemi engine, 345CI, Mopar, Mopar Hemi

www.customcrateengines.com
and would ya look at that... basically what I was planning.... 650HP... really? cool!
well this list fills in some blanks....
injector size 47 lbs/hr
throttlebody 92mm
... and... whats this? March Accessory Drive kit? oh!!!!!! thats pretty! -
Chrysler 5.7, 6.1 & 6.4 HEMI : Style Track
- requires car timing cover.. hmmm... lets see if there is budget for this at the end... lol
So now Im working overtime to buy the next few grand of parts....
Camshaft and valvetrain next. Dans buddy is "running some numbers" in one of his programs to aide us in our cam choice.
it will be a Compcams cam plus springs, rocker assembly.
Things still need to figure out....
Stock PCM or aftermarket?
terminator x looks like a good fit for the engine, but dont think it will play with this transmission?? not sure.. this is where im stuck at the moment.
Complicating things maybe is, im starting with the stock 454RFE, but planning on 8HP70 swap later down the road... might also do a turbo too after the tranny....
so... yeah...
thats where im at...
Google Photos Album
Discuss... Advise.... Call me a moron...