Discussion Starter
·
#1
·
Greetings to all Hemi owners and forum visitors.
I am writing to you from Minsk (Belarus). We have here trucks Hemi rare. And I am one of the few lucky owners of a 2004 Dodge Durango with a 5.7 Hemi.
However, recently my Hemi began to make strange grinding sounds and, as a result of opening the engine, they found wear on the camshaft, one hydraulic compensator, scuffing on the cylinder walls and piston skirts.
Therefore, now the block is machined and sleeved. And my task is to find quality spare parts for engine rebuilding.
I ask
your opinion and experienced advice regarding the Hemi 5.7 2004 engine rebuilding kit
. Namely: maybe one of you has come across repair kits from CPW, Dnj and Enginetech?
Like this: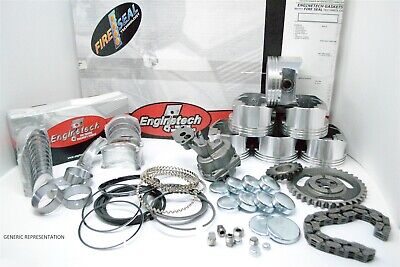 Fits 2003 - 2008 Dodge & Ram 345 5.7L V8 16V Hemi. Fits Models including Dodge Durango, Ram 1500, Ram 2500, Ram 3500, Ram 4000. Engine Rebuild Kit . This rebuild kit is provided by Enginetech and contains most all the parts commonly used to rebuild an engine.

THIS KIT INCLUDES IMPORTANT NOTE ABOUT THIS ITEM. 030 =.75 mm.020 =. 50 mm.010 =. 25 mm. Standard= STD. Rod Bearings Set Size Options Main Bearings Set Size Options.

THIS KIT INCLUDES -Timing Chain Kit. - Ending Soon. - New Arrivals. - Add to Favourites. Quick Links. CARPARTSWIZ "the smart way to buy auto parts". Accuracy (Get the right part).
Can that rebuilding kits be called quality and used for engine overhaul? Masters in my city doubt the quality of these spare parts ...
Thanks for any information!